Classics 3″ Inseam Swim Trunks: Charcoal
Look good and feel good in Avalon Classics Men's Short Swim Trunks. Our Classics design was inspired from California's retro surf culture – at a time when swim trunks were still cool. These swim trunks are slim fitting and short in length – designed to fit snug and sit mid thigh. These Short 3″ Inseam Men's Swim Trunks include two side pockets, a single back pocket and an inner card pocket. Avalon Classics are a multi-functional trunk that is not only perfect for the pool or beach, but also ideal for any summer time activity. All Avalon Classics are designed in Los Angeles, California and are made of 100% stretch polyester and are sure to stand the test of time.
Classics 3" Inseam Swim Trunks: Overview
Our best selling swim trunk, the Avalon Classics provide effortless style and will keep you looking your best all summer long. These premium, handmade trunks are available in 9 colors and are expertly tailored with a mid-rise and slim-fit legs. The Classics are a short length men's swim trunk with inseam ranges from 3.25″ to 3.75″ (S – XL) and are designed to sit mid-thigh. The Classics are cut from a premium, quick dry, polyester with 4X stretch. They feature a buttery soft, anti-chafe inner brief liner that will provide all day comfort. The 4 pocket design make these a functional trunk that will transition from the pool to your next activity.
Model is 5′ 9, wears a 30″ waist pant, weighs 155 lbs & is wearing a size Small.
Select size option below to get additional sizing info
Please select size from above to enable 'Add to Cart'
All Purchase Include a 100% Satisfaction Guarantee
Classics 3" Inseam Swim Trunks: Detailed Info
Classics 3″ Inseam Swim Trunks: Charcoal


Classics 3″ Inseam Swim Trunks: Charcoal

As a men's swimwear designer, Avalon's primary focus is on style and fit – delivering well-tailored, form fitting swim trunks and apparel. We parlay this by using the highest quality materials we can source and enlist manufacturing/quality control processes that ensure we deliver the finest quality handmade garments to our customers.
Look Good, Feel Good – Avalon
Classic's 3 Inch Inseam Swim Trunks:
Premium Quality: Designed in Los Angeles, CA
Material: Shell: 100% Polyester (stretch) | Brief Liner: 100% Ultra Soft Elastane
4 Pocket Design: Two side, single back & inner card pocket
Quick Dry: Moisture wicking, fast dry technology
Inner Mesh: Super soft inner mesh for all day comfort (cuttable)
Men's Short Retro Swim Trunks: ~3″ inseam to sit at mid-thigh
Expertly Tailored: Men's short & sim-fit swim trunk
Feature a mid-rise with inseam ranging from 3.25″ – 3.75″ (S-XL). Trunk length ranging from 13.4″ – 14.4″ to sit perfectly on the mid thigh
Tired of baggy swim trunks? Avalon Classics are slim fit swim trunks and tailored to make you look your best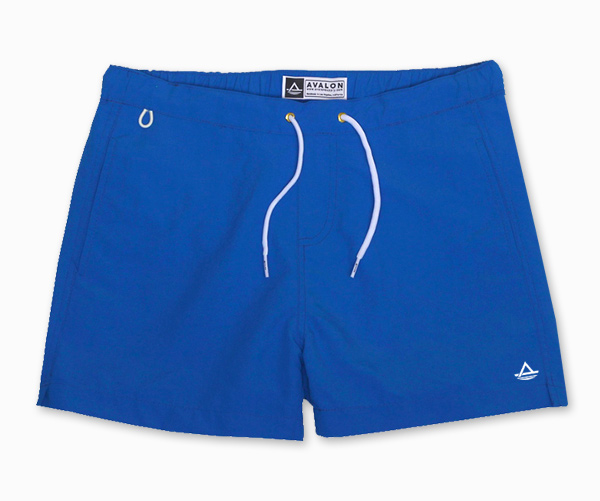 Avalon Classics primary material is a 2-ply, hi-count 100% Polyester (+ stretch) that is reinforced with double stitched seams
Finest Attention to Detail
Avalon Classics 3 Inch Inseam Swim Trunks are designed in Southern California & handmade with superior attention to detail & quality
Avalon Classics 3" Inseam Swim Trunks Reviews
Reviewed by 02 customer(s)